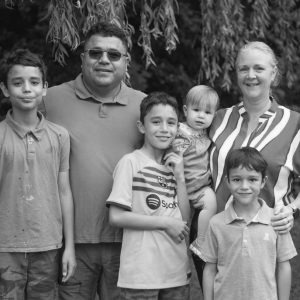 Fredi and Emma Rivero
Fredi and Emma Rivero, with Jake, William, Sam and Amy, have been accepted to serve with Latin Link in Peru.
Fredi was born and raised in the jungle of Peru. He studied and taught English at various institutions and the university, and has been able to use his gift of languages to translate for many international teams who come to do mission trips to the jungle. After becoming a Christian at 21, he started to serve the Lord through the local church in the music ministry and discipleship. As part of the leadership in their local church, Fredi has the privilege of sharing the gospel on a Sunday morning.
Emma was brought up in Northern Ireland and studied primary education and ICT at Stranmillis College. After spending time in the USA and the Republic of Ireland, Emma went on to serve in Arequipa, Peru, with the Latin Link Stride programme.
They married in 2010, serving together in the local community of San Jose, and for the last five years they have been directing a children's home in the village. They have both had the opportunity to study trauma and brain development through Texas Christian University and are both TBRI® Practitioners.
After spending 15 years in the Pucallpa/San Jose area they are looking forward to taking this new adventure of faith with Latin Link. They are praying for guidance, and along with the Latin Link Peru team, are seeking wisdom and discernment for where and how they can best serve and use their gifts to the glory of God.
Fredi, Emma, and the children will be returning to Peru in early August 2023 in order for the children to go back to school, with the aim of starting with Latin Link from September.